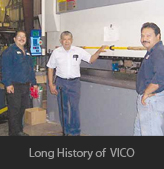 A History of Service
VICO was founded in 1984 when Jesus Villarreal decided to make his dream of owning his own business and providing affordable metal stamping services a reality. With 20 years of experience and certification as a Tool & Die Maker, his dream took shape in his garage.
He began stamping name tags with a 5 ton punch press. He then expanded to a tool and die shop which included a lathe, surface grinder, and a couple of milling machines. Jesus provided his customers with a level of service that went above and beyond their expectations.
His shop's ability to quickly turn around jobs at competitive rates gained him recognition throughout Houston and respect among his competitors. He soon moved into a 4500 square foot facility in South Houston where the business continues to grow. Now, with an 8,000 square foot facility and top-of-the-line equipment, Jesus, his son Jose, and son-in-law Frank continue to expand VICO Manufacturing, Inc. to new levels while maintaining the Fast Service, Competitive Pricing and Quality Workmanship they've become known for.
Most of VICO's customers come to us by word of mouth. Our first customer is still with us today. We are continue to grow while meeting our customers' needs. As we always say...